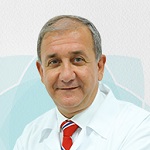 Prof.Nail Bulakbaşı, M.D. was born in Ankara in 1965. He completed his primary education at Ulubatlı Hasan Elementary School and at Deneme Lycee in Ankara. He was graduated from Kuleli Military High School in 1983. After graduating from the Gülhane Military Medical Academy (GMMA) School of Medicine in 1989, he completed his obligatory service between 1990-1992 in Ankara.
He completed his residency in GMMA Department of Radiology between 1992-1995. He worked as a radiologist at Marshal Çakmak Military Hospital in Erzurum between 1995-1996. He had Assistant Professor degree in 1996 at GMMA. He worked as a research fellow on the subject of " advanced imaging methods of brain tumors " at the Neuroradiology Section of the National Institutes of Health Clinical Center, USA, between 1999-2000. Since his return to Turkey, he mainly focused on Neuroradiology and worked at Magnetic Resonance Imaging unit in GMMA. He got his Associate Professor degree in 2002, and full Professor degree in 2010 at GMMA. He was retired from Turkish Military Forces in 2011. He currently works as the Director of Radiology Department in Near East University Faculty of Medicine.
Prof.Nail Bulakbaşı, M.D. has over 150 scientific articles and book chapters in national and international journals and is an active member of several national and international associations such as Turkish Society of Radiology (TRD), the Turkish Society of Neuroradiology (TNRD), the Turkish Society of Magnetic Resonance (TMRD), the European Society of Radiology (ESR), the American Society of Neuroradiology (ASNR), the European Society of Neuroradiology (ESNR) and the European Society for Magnetic Resonance in Medicine and Biology (ESMRMB).
He gave over 50 speeches on national and international scientific meetings, mainly focused on neuroradiology and advanced MRI techniques. He has also served as the member of TRD Radiology Board Certification Commission, the Advisory Council Member of Turkey Atomic Energy Authority, the Subspecialty Examination Coordinator of Turkish Higher Education Council Student Selection And Placement Center, the member of the European Union 7th Framework Program Project Office, and the Scientific Board Member of TRD National Radiology Congress.
He has high degree proficiency in English. He is married and has two children.